Many Tulsa wedding venues have arbors or gazebos or structures that support an outdoor wedding. Outdoor ceremonies are very popular most any time of year the weather allows. Having your ceremony outside provides a perfect and natural backdrop to your wedding. Once you have chosen your venue and know what kind of outdoor structure your ceremony will be held under, you can begin to think about what way you want that structure adorned. The type of structure does determine what you can do but most treatments are basic to any structure and can be used. Let's look at the types of drapes and floral enhancements that can decorate your outdoor structure!
Draping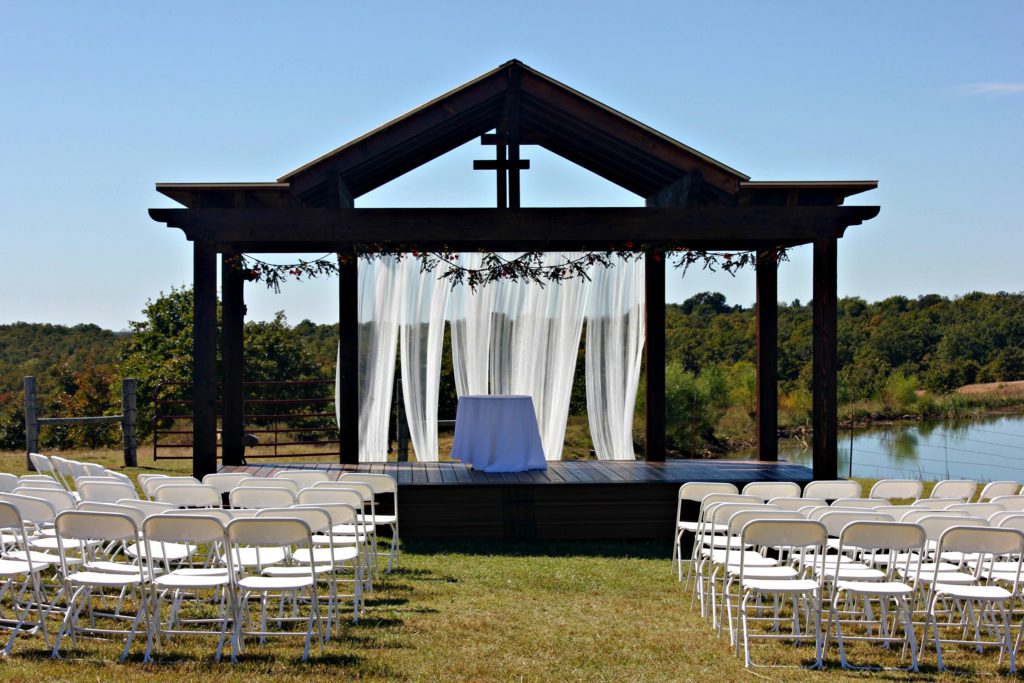 Draping an outdoor structure such as an arbor or arch is one of the most basic and beautiful ways to adorn it for your ceremony. Draping can be done with sheers, shimmers, or more solid material such as damask. Choosing the type of fabric will determine the type of drape and look you desire. There are drapings with a more curtain-type look or the drapes that are more of a wrap. Both of these looks are beautiful but totally different. Usually, a wrap is done with a toile type of material. Do your research to see what appeals to you most when draping your structure. Visit this pinterest page for some great ideas on draping!
Floral
Adding flowers to your structure is one of the easiest and quickest ways to make a dramatic change in the look of your arbor or arch. Though it can definitely be expensive, the addition of the flowers to your backdrop is something that can tie all of your colors in for a seemless look throughout the entire wedding. Your flowers will most like match the flowers of the wedding party and the flowers you have set up in your reception area. You might also have some flowers along the aisle. There are lots of ideas for florals on this pinterest page.
Combination
The ultimate combination of your decoration for your structure might be a combination of both flowers and draping. If done correctly, it won't look overdone but will look absolutely gorgeous! Be aware of what draping material will look best with the type of flowers you choose. A heavier material can accommodate a more robust floral but your lighter, springier florals will need a lightweight fabric to set them off. We have seen many beautiful combinations at many Tulsa wedding venues and love the look of this treatment.
Greenery
Another type of adornment for your wedding structure would simply be greenery. Greenery alone can set off the structure and compliment any wedding décor. Its simple beauty is sometimes the only décor you need to enhance your backdrop. You would want to choose the right greenery of course. Sometimes this works best with your winter weddings when you have the dark, lush evergreen type of greenery. (And a few touches of color thrown in can add a pop of color that works great with your color scheme.) This is a popular décor style currently and definitely is something to check out.
Check with your chosen Tulsa wedding venues to see what they offer for their backdrops as far as draping and floral. Most will probably already have a plan for draping and will most likely leave the floral option to you since that is usually different for every wedding. Your florals can be real or silks and both are a perfect choice. Check out this site for some really elaborate decor. Get creative with your structure and make your backdrop a dream come true!