At Tulsa wedding venues, all kinds of food bars and food ideas are new and fresh on the wedding scene. It is very inspirational to see all the creative food ideas that are trending.  So if you are planning a wedding in the near future, buckle your seatbelt and open your mind to some new, if not totally, unconventional ideas for food at your wedding. You might do a fresh take on some of the ideas you see here, or you might get your own creative juices flowing and think of something original and near and dear to you!
The thing is, … anything really goes these days. That is the good news! You can't go wrong on be off on your special day. It is totally up to you and most of your guests will appreciate your creativity and sit back and enjoy the new ideas. If you are the creative type, don't be afraid to be different and express yourself. Don't be afraid to do something that hasn't literally never been done before (if that's even possible!) But, consider the challenge!
The Donut Bar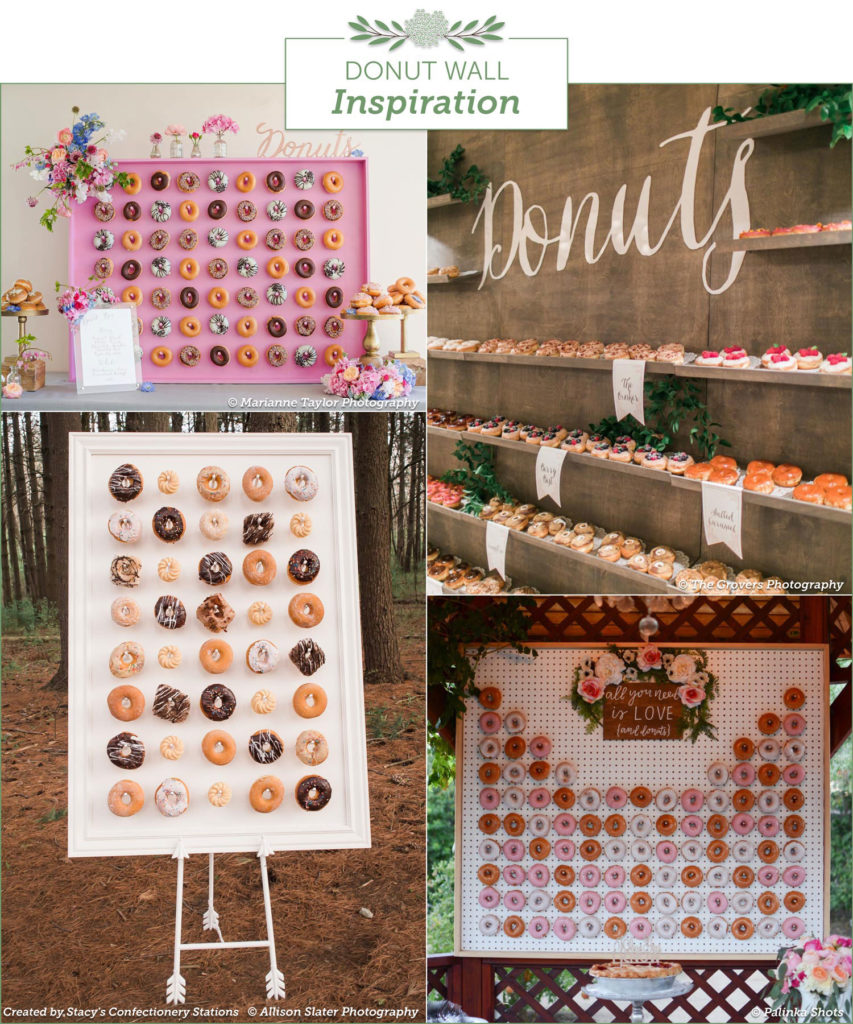 One new idea that has been trending for a while and is sure to stay around for a good long while, is the donut bar. This is so fun and there are literally so many different ways to do this. You can go easy, or go big! You can use beautiful platters to display all sorts of different types of donuts. Or you can build your own donut bar. Wow! That's a noteworthy challenge! Just look at this article by Shari's Berries that shows you how to build a DIY donut wall! It is a great article and lays everything out so easy and perfect. Your wedding reception would sure to be the hit parade if you decide to build this beautiful donut wall and fill it with all sorts of delectable donuts!
The Mac-n-Cheese Bar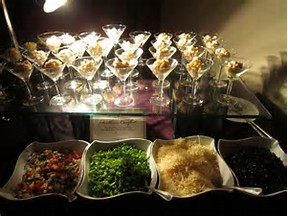 A new idea that we saw at one of Tulsa wedding venues recently that is new on the wedding scene and one that I am sure will become more and more popular, is the macaroni and cheese bar. Macaroni and cheese you say?! Well, yes! It's easy peasy and people will absolutely love it! You just provide big, beautiful servers of macaroni and cheese and beautiful glass or plastic cups to fill them with. Then you get to the fun part … the toppings! Some of the more popular toppings for this bar are salsa, sour cream, broccoli, bacon bits, and more cheese! Some of them sound odd for macaroni and cheese but believe me when I say, "Delish!" Check out hummingbirdhall for endless ideas on other toppings!
The Baked Potato Bar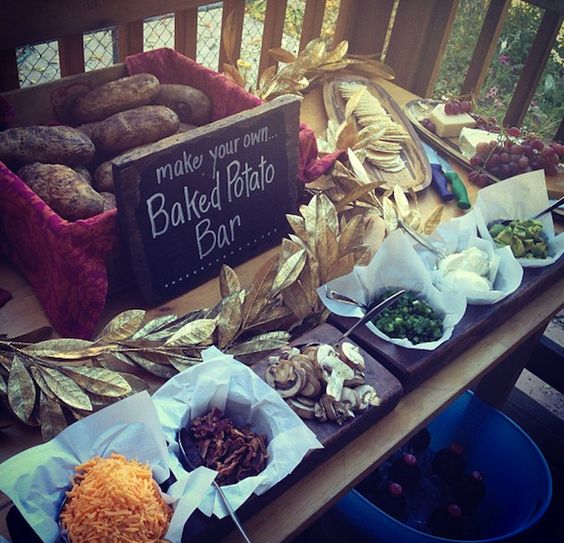 In the same vein as the macaroni and cheese bar would be the fantastic, extravagant potato bar! Provide the best baking potatoes you can find and then gather an array of toppings! Toppings can be: cheese, sour cream, bacon bits, salsa, guacamole, and whatever other toppings you think are sure to be a hit. On this one, the presentation is everything. Make your potato bar a beautiful display that will be impossible to resist. Check out this Pinterest page for unending baked potato bar ideas!
Now that we have given you a few good ideas about things that have been happening around Tulsa wedding venues, let your own creative ideas flow and come up with another different food idea for your wedding.