Tulsa wedding venues see so many new great food and dessert ideas these days! Most brides and grooms like to do something special and unique. If you are thinking about doing something a little more fun and creative for your reception menu at your preferred Tulsa wedding venues, check out all the fun dessert and food buffet ideas here! We are happy and excited to share all the latest and greatest ideas!
Dessert Bars
When it comes to planning a wedding reception, one of the best parts is outlining your special menu – especially dessert! In addition to a traditional wedding cake to celebrate you and your sweetheart, why not opt for a dessert buffet to surprise your guests with a fun twist on their favorite treats? Whether you prefer frosted, dipped, or topped with cream, Shari's Berries has a handful of unique dessert buffet ideas that will make your wedding day unforgettable and leave your guests wanting more! From a donut wall to pie pops, get inspired with a few of these creative ideas below! There are so many that you are sure to find your absolute favorite!
Food Bars
Another thing to think about at your reception besides dessert is, of course, your main food for the reception. You can look at traditional buffet ideas or go a less traditional route. Charcuterie boards can be a delicious treat for a party or wedding reception, but sometimes it's fun to mix things up as well. Don't get stuck serving up the same old cheese board over and over that most people have already done! A creative—but still filling—alternative is a bruschetta bar to serve your wedding guests! Bruschetta is a traditional Italian bread with tomatoes, basil, and olive oil. Though usually you can keep things simple, it's fun to make a full on bruschetta bar for your guests so that they can create their own combinations.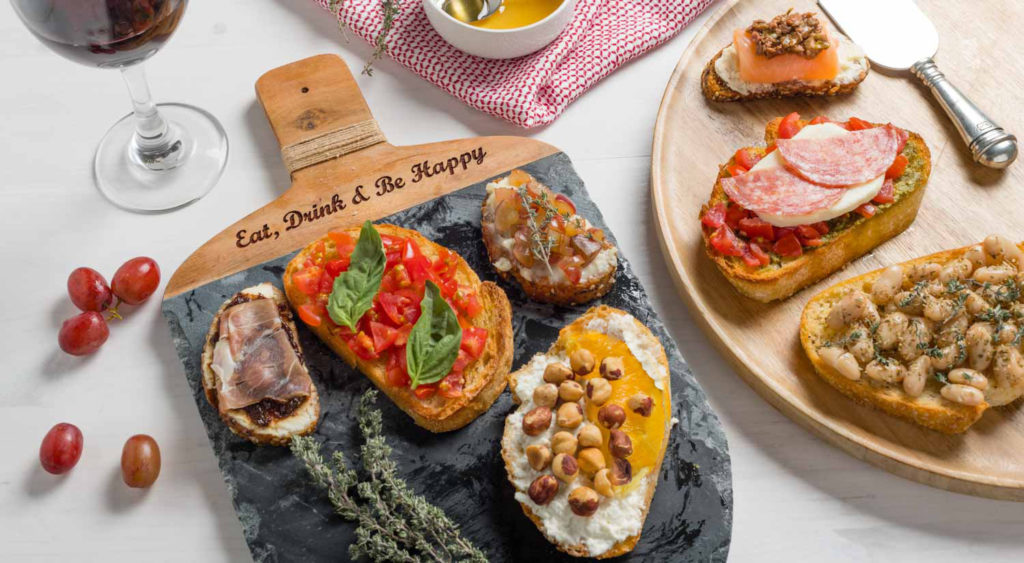 If you feel intimidated by the concept, this bruschetta bar guide from Gifts.com lists all the best ingredients to pair with one another, so you can just find your favorite cheeses and go from there! It makes for a great social snack at showers, wedding receptions, and other parties and allows everyone to cover their bruschetta in whatever they prefer. You can add a French twist with brie and jam or make your own mini pizza with salami and tomatoes. Your guests are sure to be stuffed and enjoy the creative bruschetta bar at your gathering!
For more ideas on food bars, check out our previous blog, raising the food bar. You will be glad you did!
So when you are making the menu for your wedding reception, try to think about what you like and what you think your guests will enjoy most. The most import thing is that they are celebrating your special day with you, but it is an extra bonus to do something different and special that everyone will remember. Your Tulsa wedding venues will only be enhanced by the great reception you plan and the great food you serve. It isn't the most important thing but it can be the most fun!