Choosing your wedding centerpiece can be challenging but many Tulsa wedding venues are available to help you narrow down your choices according to what works best with their venue. First of all, you want your centerpiece to be that special touch that accents and enhances your overall wedding theme. You can start with looking at all of your options and then narrow it down from there. As a result, there are many directions you can go with your centerpieces but most fall into one of three categories: what is currently trending, seasonal or holiday, and classic traditional.
Trending Now
What is trending now for many Tulsa wedding venues is the woodcut tree centerpieces. They are especially at home in the rustic barn or outdoor venue but have been equally used in the more elegant venues. The woodcuts can be decorated in many ways to get the look you want. Widely used with the woodcuts are mason jars. The mason jars with fresh flowers look especially beautiful. Noteworthy is these woodcuts can be homemade or purchased online or in many hobby/craft stores. Another plus with using woodcuts as your table centerpieces is you can also use them as decoration on your buffet tables and use a large one for the base of your wedding cake keeping the same look and feel on all of your tables.
Seasonal or Holiday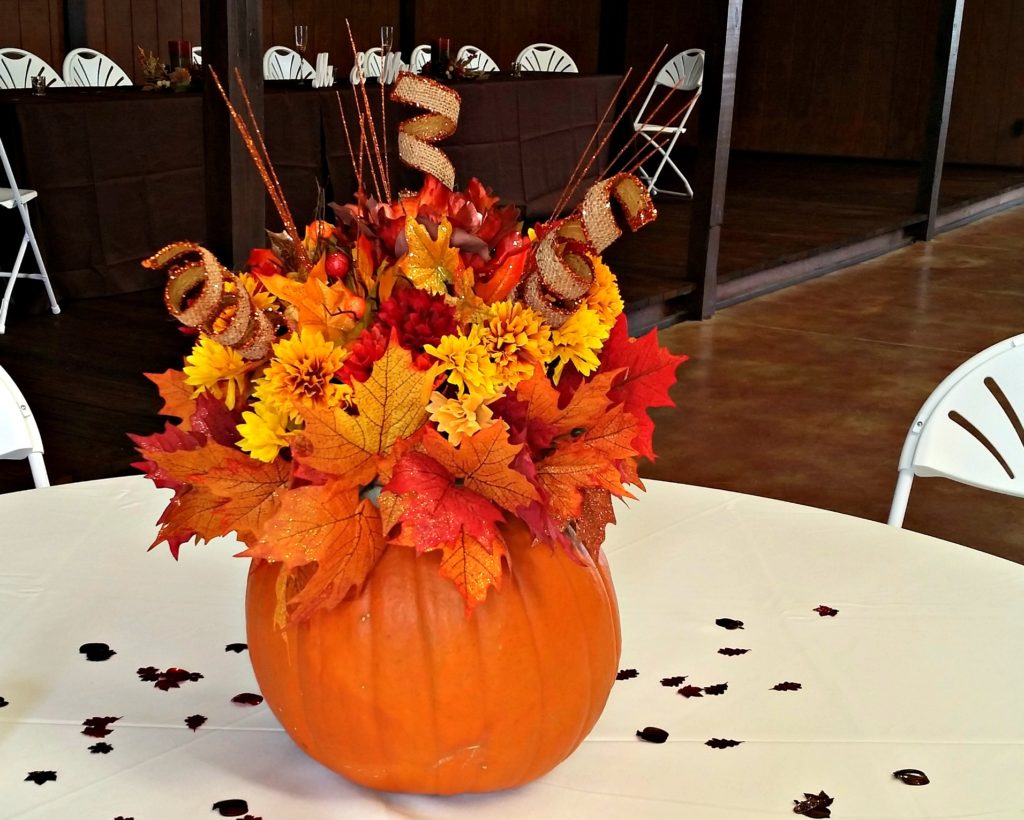 Another option for your wedding centerpieces is to go with the season. or holiday Seasonal weddings are fun because you can integrate the season into your wedding decor. Fall weddings can use pumpkins with fall flowers and foliage even bright sunflowers . Spring weddings can have that fresh look with fresh cut spring flowers or wild flowers. Winter weddings can also have fresh flowers you just have to find out what winter flowers are in season. Furthermore, if your wedding is around the Christmas holiday, consider using vibrant Christmas colors and Christmas themes to spread cheer on your special day. Other holidays to use as your inspiration could be July 4, Easter theme with tulips and beautifully decorated eggs, and of course Valentines with lush red roses and hearts on display.
Classic Traditional
Seems like you can never go wrong with the traditional, classic centerpiece. This is definitely a good choice if you are having a more classic wedding so your centerpieces complement your traditional style instead of distract. The more traditional centerpiece will  consist of flowers or roses that are more neutral or light in color. Of course, accenting your flower choice with baby's breath is a must. Choose from a variety of glass vases but keep it simple so as not to distract from the natural beauty of the blooms.
With so many choices out there, remembering a few things will help you narrow down your options and choose what is best for your wedding. Most important is to keep your centerpieces in line with your wedding theme. You want your centerpieces to add to your decor not distract. Your theme should be seamless and each decoration and design should complement each other. Also, choose your centerpiece with your venue in mind. Your venue is the backdrop for your day and will definitely dictate some of your decoration choices. Many Tulsa wedding venues can offer suggestions on centerpieces from past weddings and what looks especially well in their venue. Lastly, have fun picking out your centerpieces and making them your own!