When looking at Tulsa wedding venues, if you have decided to have your wedding in a barn, you definitely have a lot of decorating options. Consequently, the interior of a barn is usually wood so that provides you with a beautiful backdrop to begin with! The natural wood tones are like a blank canvas which enables you to decorate in most any color or theme you desire. As a result, your styles can range from country hoe-down to shabby chic to simple elegance.
Country Hoe-Down
If you are looking for a very down-home look, then a barn is the perfect venue. You can create that homey, country atmosphere with farm and country related items. Hay bales can be super cute and fun giving you that country flair. Furthermore, you can use them as chairs for your ceremony and/or scatter them throughout the barn as chairs or tables or just decoration.
Another country item that works well in the barn is burlap. It can be used as tablecloths or table runners, curtains, or in many other ways. Check out deerpearlflowers.com for countless ways to incorporate burlap into your wedding. And since it's so popular right now, it is very easy to find. Another popular item for decorating is mason jars. They make the perfect vase for your centerpieces or look fabulous hanging on shepherds hooks adorning your rows. Woodcuts for the centerpieces look awesome on the tables with the mason jars on top. Other popular farm decorations could be horseshoes, bandannas, and wagon wheels.
Shabby Chic
Shabby chic is currently very popular and goes great in a barn or outdoor venue. This style uses a lot of white and also soft neutral colors that look awesome with the wood of the barn. Vintage and antique furniture can be added to the barn to give it that old fashioned, classic look. In addition, you can take the mason jar one step further and paint it in soft colors to provide a pretty setting for your fresh flowers. Also, garlands and pennant strings strung on the ceiling to complement this style. Check out this Shabby Chic website for wedding ideas!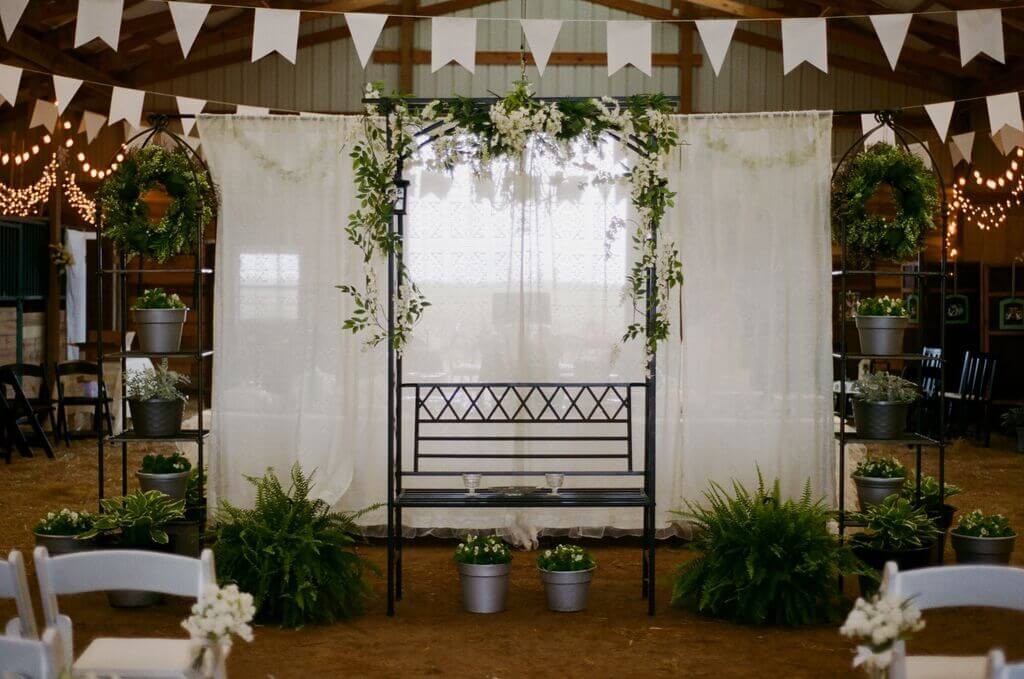 Simple Elegance
A more elegant style of decorating also looks really good in a big, open barn.  Hanging chandeliers from the ceiling is a stunning addition to the barn. Sheer panels added to the big barn doors can make a beautiful and airy statement. Sheer bunting added to the rafters also adds a heavenly, serene, and elegant style that is sure to make a dramatic statement. You can also adorn your tables with candelabras and since it is a barn, led candles are probably preferred. Pure, rustic, elegance can also be achieved with lace and pearl decorations.
All of these styles look absolutely awesome at a barn wedding. And of course, all of these styles can be mixed. There are no rules. There is only the bride's vision of what she wants her big day to look and feel like. And don't forget the market or fairy style lights that are a must at any barn wedding! The barn venue gives you endless decorating opportunities to create the atmosphere and ambiance you desire. Fortunately, there are many barn venues to choose from amongst Tulsa wedding venues. And, of course, most Tulsa wedding venues will work with you to make your big day great!